EXPOSITION EN COURS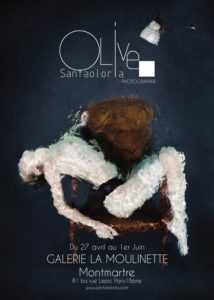 Olive Santaoloria was born in 1973, he grew up in the southwest of France, surrounded by the Bordeaux's vineyards and the river 'La Garonne'.
In his series 'Leviathan', Olive has developed a virgin world of broken bodies which reflect the turpitude of the soul. He likes to have the man, the woman, the couple, the Humanity at the center of his own thoughts. Olive describes the subjects in his work as follows: "From portraits to landscapes, the man of a thousand faces, the woman of a thousand reflections…"
He is continuing his pictorial research within his different series: Leviathan or Red. He is more obsessed by a unique result and an original graphic than by the perfection of the academic photography. Olive has understood that he must go further in the concept 'Photo-graphic'. In parallel of the two series visible on his website, Olive is working on a third artwork where, after playing with the shades of white, he will explore the black's deepness.